A week off in Tenerife…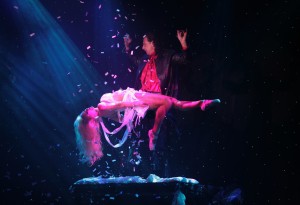 Well….. Im back. And back into the swing of things.
Ive been away for a week in Tenerife. After the rush of shows in December I usually try to take some time out in January.
This year we stayed in Los Christionos for week. We did all sorts from Jet Skiing and touring the mountains to jumping off the mountains, with a small Spanish dude, (parasending) All in all, awesome.
Did I see any magic or  other magicians? Hell yes! Four in fact!
2 street magicians at Harrys Bar in the Safari centre doing some really great magic, a not so good guy using a basic trick deck, dressed in a cape and top hat over the road and atop stage professional form Vegas.
This show was just out side of Play De La Americas and featured the magic of Gaetano.
https://www.facebook.com/GAETANOMAGIC/
The show simply called "Illusion, Live" was actually really good. To be honest I didnt know what to expect as it was billed as a Las Vegas show in Tenerife.
Although I had not heard of Gaetano before he looked strangely familiar when he appeared on stage.
It turns out that he used to perform at the Flamingo Hotel back in the 80,s and 90,s and his wife was from Tenerife, so here he is.
If you go out there at any point I can recommend the show, i very much enjoyed it!