Children's Magician
 

Children's magician based in Newcastle Upon Tyne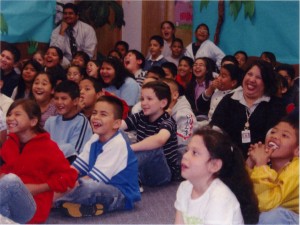 "Children see magic because they look for it."  Christopher Moore
Children's magician, Graeme Shaw has perfected his kid's show in front of more than a decades worth of happy young audiences all over the North East. It is perfect for birthday parties, christenings, holiday parks, theatres and more.
See Graeme`s Independant Reviews on Net mums HERE
<>
WINNER Of The 2012 Martin Duffy Children's Entertainer Of The Year Award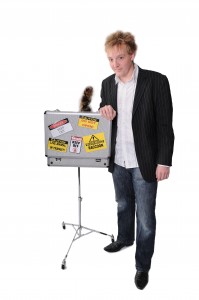 Winner of The Martin Duffy North East Children's Magic Award 2012 (A trophy only awarded to the BEST kids magicians)
He has been doing kids magic in the North East area for over 15 years
Is NOT your usual Children's entertainer or dj
Is one of the cheapest despite his vast experience
Will leave the kids spellbound and WILL fool the older kids AND adults!
During the 45min – 1HR  show, Graeme entertains with music, clown noses, coloured rabbits, floating drinks glasses, vanishing finger rings, balloons, and turns the birthday boy or girl into a star in the fun packed finale that is sure to delight both kid's and adults alike.
Graeme is also known for his cheeky friend "Rocky The Raccoon" who usually makes an appearance and causes mischief.
The show is unlike most other children's entertainers because he is a Magician, not a dj that does a few tricks or a kids entertainer that does party games, but a Magician that will leave the kids AND adults puzzled!
The show is performed at a lot of holiday parks and theaters and has plenty of audience participation.
Hi Graeme, just to say thank you for today! Liam loved his party & the adults enjoyed your show just as much as the childen 🙂 (Melanie, Blyth, July 2013)
And YES he can perform in your house for a birthday party!
We've all seen and probably cringed at the typical children's  entertainer that are "old hat" (forgive the pun) doing boring stuff that the kids think is……. ok, but the older kids and adults pay no attention. That's why Graeme wont do it like that!
He' s different because he concentrates on the aspect of spellbinding magic and has structured a show through the years that is simply the best you will find in the Newcastle area and everyone, even adults will want to watch.
Graeme is a magician FIRST. This means that the MAGIC in the show is very strong without having to "fill" time with games and other "fillers" like most children's entertainers.
There is nothing wrong with games and other activities but then its not a magic show.
Graeme s philosophy is this will probably be the first time that the children (and even some adults) will have seen a magician before, and doing a really strong magic show will leave strong memories for children
Graeme says:
" I remember the first time I saw a magician when I was young, and I will never forget how amazed I was when he produced coins magically from the air with his bare hands and placed them into a sliver bucket. That memory is very strong and reminds me today why I love doing magic for children"
Tips when booking a Children's entertainer
Firstly think what type of entertainer you would like. There are many different types. Some offer disco for the full duration of your party, some offer disco, games, balloons, prizes, magic shows, party food or face painting. Ranging from £70 – £250 +
Some offer everything at a set price. The problem with these is you tend to find that they do everything, but not particularly well! You will find most offer a 2 hr type package as 2 hrs is the general length of child's party.
A 2 hour type package generally includes a disco, games and a short magic show. This is fine but generally expensive and the magic show is not really a magic show and NOT performed by a professional magician, but usually a dj who has bought a few trick from the magic shop. Probably Graeme's!
Graeme does not offer a "party package" but rather a 45 min – 1 hr magic show. As most party's run for 2 hours, after you have taken into account the magic show (1 hr) and your party food (say 20 mins) you only have 40 mins left to fill anyway! So with your own background music, maybe just a stereo system and your own game or two like pass the parcel, you have it covered. Plus you always find that the kids just want to run around anyway! So why pay some one for 2 hours??
 How much is he ?
Because there are many factors to consider for different events, like distance and how long you would like Graeme etc we will give you a unique price, but it will be very reasonable.
Enquire here  And Graeme will be back to you quicker than you can say Abracadabra!
View Graeme`s latest C.R.B certificate here
Children's Magician North East
Children's Magician Northumberland
Children`s Magician Sunderland
Children's Magician Darlington