Close Up Magician For Adults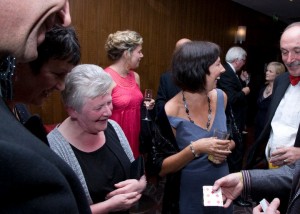 North East Magician Graeme Shaw is perfect for your event
Close Up Magician For Adults.
Fast-paced, fun, and flabbergasting are just a few of the words that could be used to describe Graeme's close up magic. Whether it's for a birthday, private party, or a corporate event, Graeme will create a truly memorable experience for your guests.
Graeme is one of the best close up magicians in the UK. 90% of his bookings come from recommendations and re bookings and he is one of the busiest magicians around.
Graeme is at his best in close up situations, whether it be circulating around tables at a private event, performing during a drinks reception as guests arrive or at private functions and house parties, Graeme is sure to amaze and astound with his fast visual cheeky style of magic and is unlike anyone else. He usually even gives you your watch back….
Want Some Independant Reviews? Click HERE
Winner of the "Lennox Shield" for the best North East Close Up Magician 3 years running, and winner of the North Of England  Inter magic society  magic award 2009
Hi Graeme
Have to say that you did a great job Yesterday and feedback from the staff was excellent. I am really pleased you enjoyed it as well.
The day itself was a huge success, and I have heard many comments about your magic, so you really did make a big impression, so well done.
A big thank you from everyone at Virgin Media.
Thanks
Bryan
Graeme, like a true Close Up Magician should,  performs with cards, coins, and anything he can find in his pockets. Your guests become a part of the magic as their watches and rings vanish from right under their noses. And they'll be sure to be laughing throughout as Graeme delivers his magic with good humour and razor sharp wit.
As Graeme is the winner of the prestigious North East Close Up Magician of the Year Award 3 years running, you can rest assured your next event is in the best possible hands.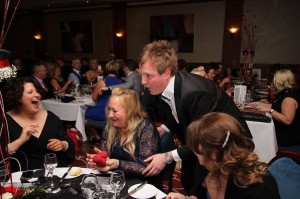 When`s a good time to have a close up magician at my event and what will the benefit be?
If your looking at this page you will probably already know why having a magician at your event will be of benefit! Maybe you have seen Graeme or another magician at another function and realized what an impact it can make.
The other bonus is the fact that a good close up magician can adapt to almost any situation and can be very versatile. For example your guests are standing in a different area to where you thought they would during your drinks reception. For something like a piano player, harpist or singer this may be a problem, but a magician can simply go where ever they are needed and at any time.
Maybe your having a garden party or family get together and just want something "different" that doesn't take up too much room. A close up magician can really come at any point during your event, but try to avoid it being too late as some guests may have headed home or maybe some younger ones would love to see a magician.
Most GOOD close up magicians can also cater for younger audiences at events and can do some close up type magic for them too, maybe even some balloons. Coming along at the start of the night does work well and don't worry about some of your guests maybe not being there right from the off, most magicians work 1 – 2 hrs so they will probably still get to see them even if they come along later on!
Try to avoid having a magician at the same time as your disco, singer or band if you can help it. Maybe your having a private birthday party in privately booked room, pretty much any time would work for a close up magician but normally towards the beginning of the night or during the buffet works well. A GOOD close up magician can adapt his magic to the situaton but loud music towards the end of the night may make it more difficult for your guests to engage and here the magician.
A magician that wanders around your guests at the start of the evening, maybe during a drinks reception is an excellent "ice breaker" It brings people who don't already know each other together, and gets them chatting straight away. Even if they do know each other it starts the conversation on a positive note from the off.
For a larger event – Once your guests are seated, is another popular time for a magician to perform. Often known as "table hopping" or "table magic". Don`t worry this doesn't involve Graeme jumping from table to table! But means that the magician will move around the tables doing his performance for the guests sat at each table. Magicians normally do this in between courses and NOT when the guests are actually eating or when awards or welcome speeches are taking place. At larger events this works well as the tables are usually all at a slightly different stage of the meal throughout, i.e. when the last table is receiving there mains, the first table are now finishing.
What ever your needs or even if you just want some advise, don't hesitate to contact Graeme for information and/or advise
You entertained everyone at my party  absolutely brilliantly! People are still talking about how amazing you were with all your tricks and they also loved your humour. I personally had a super time thanks to you and the trick where you threw my signed playing card up to a window astounded us all. The card stayed there for some days – I was quite sorry when it finally came down!

I have certainly wholeheartedly recommended you to other people and I look forward to booking you again in the future.

Many thanks indeed,

Ann Hammond, August 2014
All day yesterday and even today I have been receiving phone calls from people throughout the business saying how amazing the night was and how fantastic you were!

Everyone was blown away, it was great and thank you so much for coming especially on such short notice!

Kind regards
Megan Carr
Marketing Assistant

Omega Plastics
Blyth

Sat 16th April 2016 at "Pleased To Meet You"

Close-up Magician in: