Magic On Stage
North East Stage Magician
Graeme Shaw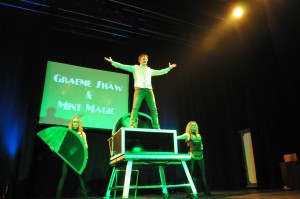 Top North East stage magician is Graeme Shaw.
With performances ranging from 10 mins to a full hour evening show, Graeme's stage show could be just what your looking for.
Graeme has been performing stage magic since he was 9, in fact cutting his sister in half was a regular occurrence in Graeme`s house!
Although he spends most of his time performing "Close Up Magic" his real passion has and always will be stage magic and illusion.
Some clients just want something simple on the night to involve their clients or friends and others are looking for a full stage show with large illusions, lights, smoke and dancing girls!
Graeme works along side "Mint Management" (a North East dance group) when doing bigger productions, they offer that little touch of glamour and can also be booked separately.
So……. How much is it??
Good question. Because there are so many different scenarios we will tailor a price to suit what you need, please contact us for a full quote
Winner of the Edmund Younger Cup for stage magic, 2000, 2002,2006, 2007,  2008, 2012
Graeme Shaw Newcastle Stage Magician in the North East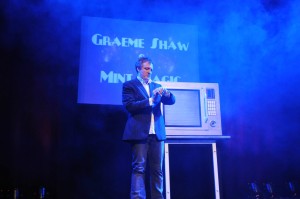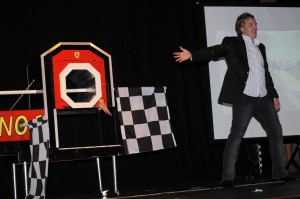 Graeme regularly performs at the Customs House, South Shields where for over 10 years he has organised and starred in "The Family Magic Extravaganza" every March which attracts hundreds of family's from across the region.
Here he has performed everything from large scale illusions, a white hankerchief that has a mind of its own, to performing with a small furry animal called Rocky
Stage Magic Promotional Video