The First Magician To Ever Win Britain's Got Talent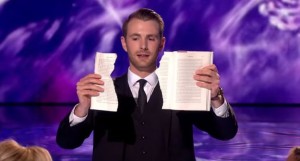 So thats it! A magician finally wins Britain's Got Talent
What has surprised lots of magicians is the fact that he did relatively small "close up magic" to win it.
Many other magicians have performed larger stage illusions in the past and while it did look great, it just didnt have the appeal that the smaller type stuff seems to have.
The same can be said last year of "Jamie Raven" who came 2nd to a dog….. or 2 dogs anyway when he performed his style of close up magic.
Its strange actually that both magicians performed stuff that I have been personally doing for years, the cartoon deck effect and the changing money from 2015 and the torn out book page from this year have been in my act for many years.
I think it was inevitable that a magician would win pretty soon as the judges opinions of magicians has changed dramatically over the years from "im not a fan of magicians or magic", said Simon Cowell in 2013, to "I believe in magic in 2016"
Whether or not the producers have realized that they need more variety other than a singer a dancer or a dog to win BGT remains to be seen. But they certainly dont seem to set magicians up to fail like to have in the past.
Its also worth pointing out that Simon Cowell claims "We have never seen anything like that before" this year while watching Richard Jones performance in the semi finals. However a magician performed a VERY similar routine on the show years ago but was told "You need to up your game and do something bigger on the stage"
I do think that Richard did a great job in theming his performance around the armed forces, it really did pull at te heart strings of the British public. I do think the tricks were excellent but they became secondary in comparison to the whole military element
Its a great thing for magic though and I wish all the very best to Richard