Wedding Magician Prices
Wedding Magician Prices
Magician prices can vary on many factors and this is why most dont display them on their websites or literature.
Recently magicians have become a very popular addition to events, functions and weddings. The last few years have seen an explosion of  magic on TV. Magicians like David Blaine, Dynamo, Derren Brown and Troy to name a few, have wowed us into remembering what magic is all about and why it has, and will always be a popular art form.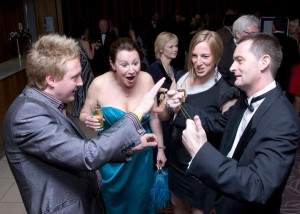 How much does a magician cost?
Unsurprisingly this can vary depending on many factors like,
Location
How good the magician is
How long you book them for
Typically you will find prices vary from around £100 per hour to £300 per hour.
You ll find Graeme s prices really reasonable and may be surprised in comparison to others.
Location – Sounds obvious, but try and book someone who is from the area where your wedding or event is taking place. This will cost you less as they are not travelling as far. However most magicians will travel anywhere in the world.
How good the magician is – The better the magician, the more they generally cost. However this is not always the case as many advertise all over the country but may live in London. So if you want them to perform in say Newcastle Upon Tyne the cost will be much higher and may not reflect how good the performer is. Also like houses, prices differ from region to region. You will most likely find that London based magicians are more expensive generally than Northern based magicians as the cost of living in the London area is higher.
How long you book them for – Close up wedding magicians will usually perform for 1-2 hours and pricing will be based on an hourly rate.
Graeme usually recommends 1 to 1 & 1/2 hours for party's of under 100 and 1 to 2 hours for party's over 100.
 More hints and tips…..
Finding the right magician for your event can be a difficult and daunting task, especially with so many advertising in brochures and on google.
Its even more difficult if you have never seen or even met the magician before. How do you go about booking a good magician and avoid being disappointed?
First of all, there are different types of magicians, here are some common terms used to describe some of  them:
Close up magic – The most common type that you will see at weddings and events. Commonly a magician that will "mix and mingle" with guests while standing around in groups or sat at tables, using cards coins and borrowed everyday objects. Graeme's close up magic page
Children's magician – A magician that will entertain the kids, generally setting up a show and getting the kids shouting and involved in the show. Graeme's children's magic page
Illusionist – A magician that will perform "grand illusions" like cutting a girl in half, normally needing a stage or large performing area. Information on Graeme's stage illusions
Comedy magician – A magician that will generally stand in front of everyone and perform some comedy type magic, sometimes on a small stage or performing area
Mentalist – Mind reading type magic, think Derren Brown. Normally performed to larger groups of people all together
A good wedding magician like Graeme Shaw, will be able to entertain all of your guests individually as well as keep any kids happy and will even perform to the whole party of people if needed.
Ultimately and if possible,  book some one that you have seen perform. Maybe you have already seen them at another function or event but may have heard of someone else offering the same type of thing, but cheaper. Is it worth the risk? You will generally find that the cheaper priced magicians are either just starting out, or aren't actual magicians but a guy that may have bought a few tricks from a magic shop, probably Graeme's!
There is no substitute for experience, book some one who knows what they are doing and have been doing it a good while.
I don't have the opportunity to see the magician I'm thinking of booking what should I do?
Google is your friend, use it. Find as much information about them as you can. Have they won any magical accolades? (See Graeme Shaws Awards) Have they been in the press? On TV? (Graeme's press and TV list)
Check out their website if they have one, is it professional? Check out any videos they may have of themselves performing.
Email them for a price. See how they respond and don't feel pressured into booking anything
Even better, call them. You can tell a lot from talking to someone on the phone about their general manner and you will get a feel whether they may be what your looking for.
Avoid people that seem to do everything. Bouncy castles, face painting, discos, games, DJ, wedding close up magic, the dishes……. They normally don't do any of them particularly well!
All in all, book someone you know has proved to be one of the best. Whether you have seen him or not, Graeme has won more magic awards than any other North East magician, was the youngest person ever to be elected President of the Newcastle Upon Tyne Magic Circle, is being booked by more and more people all over the world, is booked by OTHER MAGICIANS to perform for them! and is involved in running one of the largest magic companies in the world.
Or save your yourself time and money and enquire with Graeme Shaw now!