Wedding Magician
Wedding Magician, Graeme Shaw

Graeme is one of the BEST North East Wedding Magicians.
Wedding Magician hire in the North East Of England
After performing at thousands of weddings all over the North East Graeme knows exactly how and when to do magic on your special day!
Whether you want him to mix and mingle while your having your photos done, during your wedding breakfast or during your evening reception, Graeme has done it all and can help advise what might be best. And the chances are he has worked at your venue before and will know what might work best for you.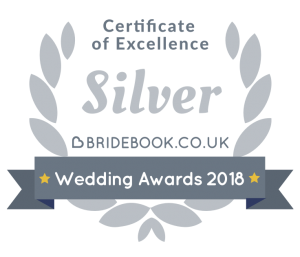 Want to See Some Independent Reviews? Click HERE
<>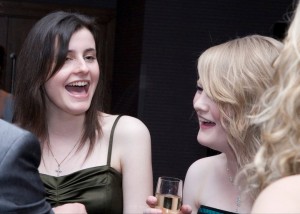 "It always seems impossible until it is done." – Nelson Mandela
Give your wedding that little extra you have been looking for!
Hi Graeme,

Thank you for giving us something that we had never seen before – your tricks were quick, varied, funny, energetic and really got people talking.  What more could you ask for for cocktail hour fun?  After such a solemn ceremony you really helped to shift the tone to a more relaxed affair.  Thank you for the your promptness, professionalism and for making so many people happy.  You managed to convince a 90 year old neighbour of ours to stay instead of heading off straight after the ceremony and she then went on to enjoy the entire day (although we think you made hers!).  For anyone out there who believes that magicians at weddings are cheap gimmicks, Graeme will prove you otherwise with his talent and skill.  It really did add another dimension to our day that we would have sorely missed without him.  You were what many people took away with them afterwards.  We wouldn't hesitate in recommending your services to anyone in need of a flexible and truly family friendly entertainer – an artist at what you do.

Many thanks and all the best,

Jess and Tom, August 2017
Graeme is constantly booked for weddings up and down the country because of his fast pace and his unique blend of close up magic and tongue in cheek comedy.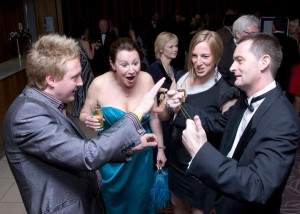 "The great thing about a close up magician is the fact that they can move around and entertain guests at any time, where ever they may be at your venue, as oppose to other entertainment which is generally fixed to one position"   Says Graeme
Winner of the "Lennox Shield" for the best North East Close Up Magician 3 years running, and winner of the North Of England  Inter magic society  magic award 2009
Graeme`s style of magic is fast and cutting edge using everyday objects, some borrowed from your guests. He`s not your  usual old fashioned traditional magician who is stuck in the past, Graeme is doing the stuff that you may see on TV or even just heard about, sticking cards to ceilings, vanishing finger rings, picking pockets, and even pulling a signed card from his mobile phone.
Kids are also catered for as Graeme will also spend some time with them, doing magic in THEIR hands and can even make up some balloon animals if needed to help keep them happy.
Okay, how much is he?
Enquire here for your wedding price
Click here to see wedding magician prices and hints and tips on booking the right magician for your wedding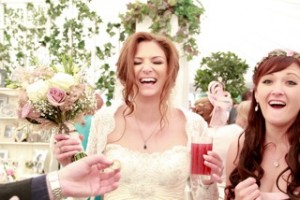 Thank you for making my daughter and son inlaws wedding special – Beverly Scott, May 2012, Ramside Hall, Durham
Hi Graeme

I just wanted to let you know how impressed Sue and I were with you and also all the other guests at the wedding thought you were absolutely superb.  You certainly got people talking.
Thank you so much for helping make Emma and Nick's day so memorable.

Andy & Sue (Durham Marriott Hotel, Aug 2013)
When's a good time to have a magician at my wedding?
Weddings are very unique and are created as individual as you are. Having a magician can enhance and help keep your day flowing the way you want it to.
Here are some popular times that Graeme tends to be booked for at weddings:
While the photographs are being taken – A popular time is after the ceremony while everyone is socializing and the bride and groom are busy having photographs done. Of course this may not work if you're getting married in one venue then moving to your reception venue, but you could have a magician at the second venue as people arrive.
During the wedding breakfast/Meal – Once everyone is sat Graeme will circulate the tables performing his close up magic at each individual table in turn. This works well at weddings and can break the ice, especially if you have people sat at tables that don't really know each other! Graeme will do this in between courses and will never try to perform whilst guests are eating.
When your afternoon section ends and your guests are in the bar area – That time when you have finished your meal and move into the bar area while the staff change the room around for the evening part of your day. At some venues the staff need a little time to change the room around from when you had your meal to the evening layout ready for your evening guests. Maybe you have a band or disco setting up as well. A magician can keep people entertained while this happens.
Your evening reception – Usually earlier in the night works best, before it gets too loud!  All of your guests will get to see the magician even if they arrive later. Graeme will "mix and mingle" with the guests while standing or while seated at tables.
Whichever time may work best for you a magician can add that special touch that you have been looking for.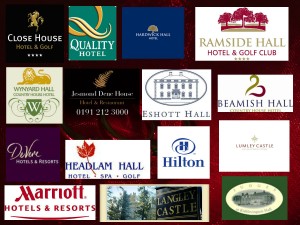 Hi Graeme,

Thankyou so much for Saturday night. We had such a fabulous day and then you came along and added to the enjoyment, your tricks have got so many people talking, and I loved how you took a bracelet from a friend and put it on Vicky !
We will recommend  you any day.

Thank you again and kind regards,
Heather, Nev, David and Vicky Kirby. (Sept 2013)
What can I say?! Unbelievably talented! Everyone raved about you all night and all through this mornings breakfast! Thank you so much!

Donna & Brian, (South Causey Inn, Stanley Nov 2013)
Wedding Magician Middlesbrough
Wedding Magician Northumberland